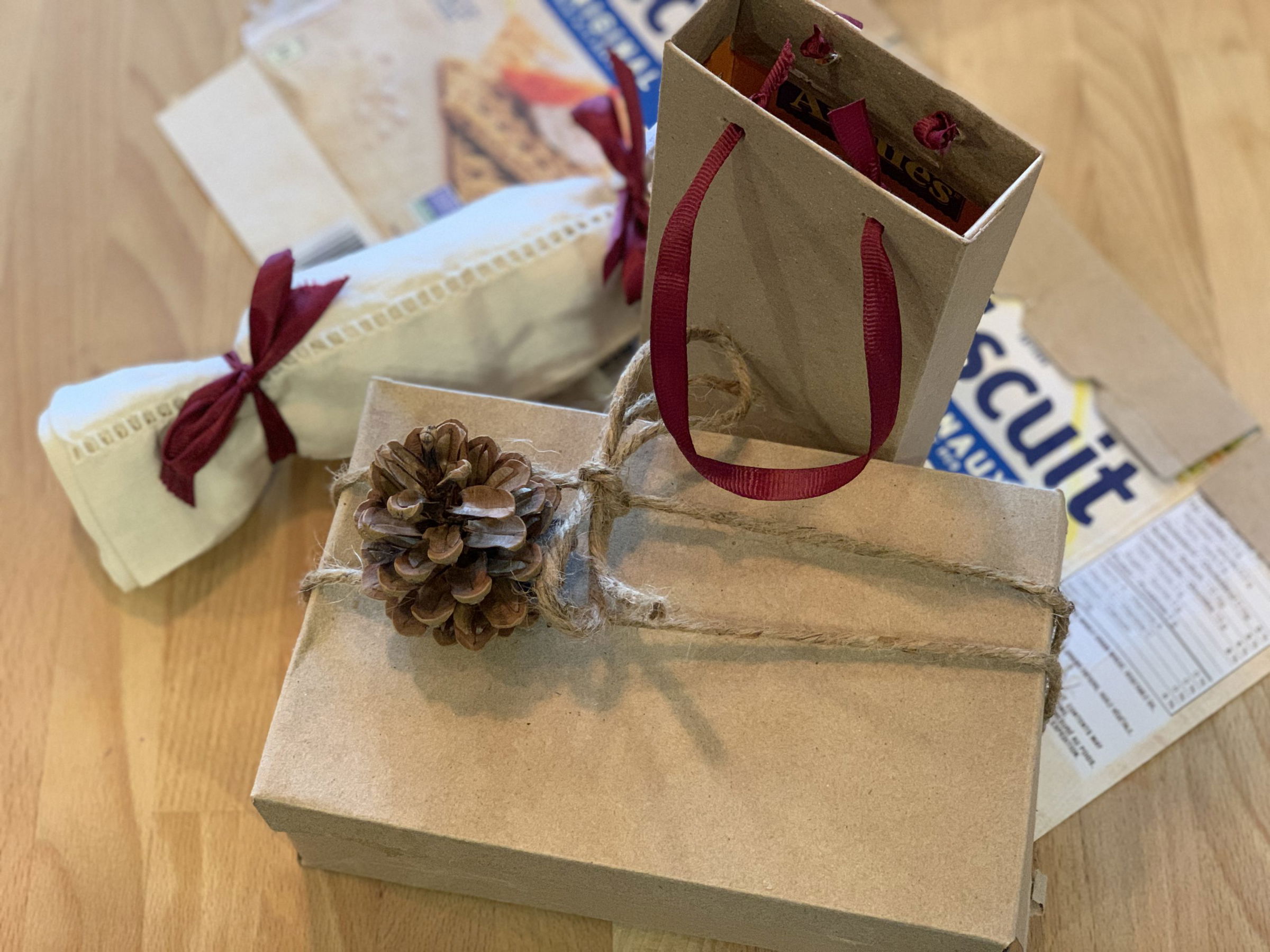 Christmas, and the lead-up to Christmas, is known in recent history as the busiest buying season of the year.  Modern Christmas was essentially designed by marketers to sell stuff for Christmas and turn a big profit. The byproduct: tremendous amounts of waste that hit the landfill every year, some of which will not biodegrade for up to 1000 years.  Before we get into the 'zero waste' tips, here are some interesting stats:
According to Zero Waste Canada, '540,000 tonnes of gift wrap, 2.6 billion greeting cards, and 6 million rolls of tape' will be used for one day and tossed.  Add the boxes, Styrofoam, and plastic overwrap and your neighborhood block party could fill a swimming pool with all this waste in just one day.
More Celebrations. Not only are we celebrating Christmas, but our friends are also celebrating Hanukkah, Kwanzaa, Omisoka, Diwali and more.  That said, between November – December, the shopping frenzy has been out of control and the amount of waste produced by this phenomenon has not slowed year after year.  
According to the Journal of Industrial Ecology, "individual household consumption (not businesses or industry) accounts for 60% of global greenhouse gas emissions."  After we consider all this, most gift recipients aren't really that happy with the mass-produced gift that travelled from across the world to land in their lap.  What's the solution?  
Here are a few tips that will create a memorable 'zero waste' holiday.
Shop Local. Did you know that shopping local promotes mental health and well-being?   As we are social beings and rely on our community for the foundation of our mental balance, shopping local allows us to keep our local businesses alive, fosters a familiar buying experience, gives us the satisfaction that we're buying something of quality, and allows us to buy something unique that will draw a connection for the recipient.  Our recommendation is to swing by your local Christmas market, artisan shop or local vintage store.  Another idea? Buy an experience or get a paper gift certificate to the recipient's favorite restaurant or tour company.
Exchange Gift Lists. We need to start opening up and enriching the lines of communication between each other, start listening to each other.  If you 'had your earmuffs on' while your loved one was talking, exchange wish lists before the holidays.  This is the best way to give a gift that your family or friend will appreciate and actually use.  Heck, we give lists when we get married and we write a 'Wish List' as children… why not prep a list as an adult for the holidays?  According to Zerowaste.com, "zero wasters know it's really important to make sure that gifts are important and/or useful."  It's important to be transparent about your wishes.  We aren't going to get out of this environmental pickle by letting mass consumerism bulldoze over our values to protect the environment.  To be honest, 'it's the thought that counts' should only apply to every single one of us who thinks about the planet before opening their pocketbook.  If someone gave me some plastic junk from the dollar store and said 'it's the thought that counts,' I might keel over that very instant.  Honestly, I'd rather get a hug than an unsustainable gift any day.
Zero Waste Gifts under $10. To prevent the dollar store purchases, which usually entail plastic and ridiculous amounts of waste, here are a few ideas for meaningful gifts under $10:

Bamboo toothbrush: everyone needs one; it's unique AND eco-friendly.

Nice bar of locally made natural soap: always smells great, it's a necessity, and most likely supports a local artisan.

Delicious bar of locally made chocolate: usually made with top-quality ingredients, fresh, and supports a local artisan.

Beverages: organic tea in paper pouches, s

ustainably sourced coffee in a paper bag, or a glass bottle full of organic hot chocolate mix are great ideas that won't break the bank. 

DIY: cookie mix, dry soup mix, or lavender sugar body scrub all presented in a beautiful glass mason jar.  Google a five-star recipe for these, recruit your loved ones to help with assembly and you've got an enriching social activity that beats scrolling on social media any day!
Zero Waste Gifts $10 – $100+.
Clothing: purchase a nice ethically sourced wool sweater.  Something sporty? Go for B Corp Certified skis made with a new technology that uses algae instead of plastic.

Support local: beautifully-made pottery, a hand-turned wood salad bowl, or a paper gift certificate to a great local restaurant.  If you're going for a gift certificate, request a paper or electronic copy – plastic gift cards are hard to recycle, and billions are purchased every year.
Not sure about the ideas above? Google 'zero waste gifts' and a treasure trove of ideas at every price level will pop onto your screen!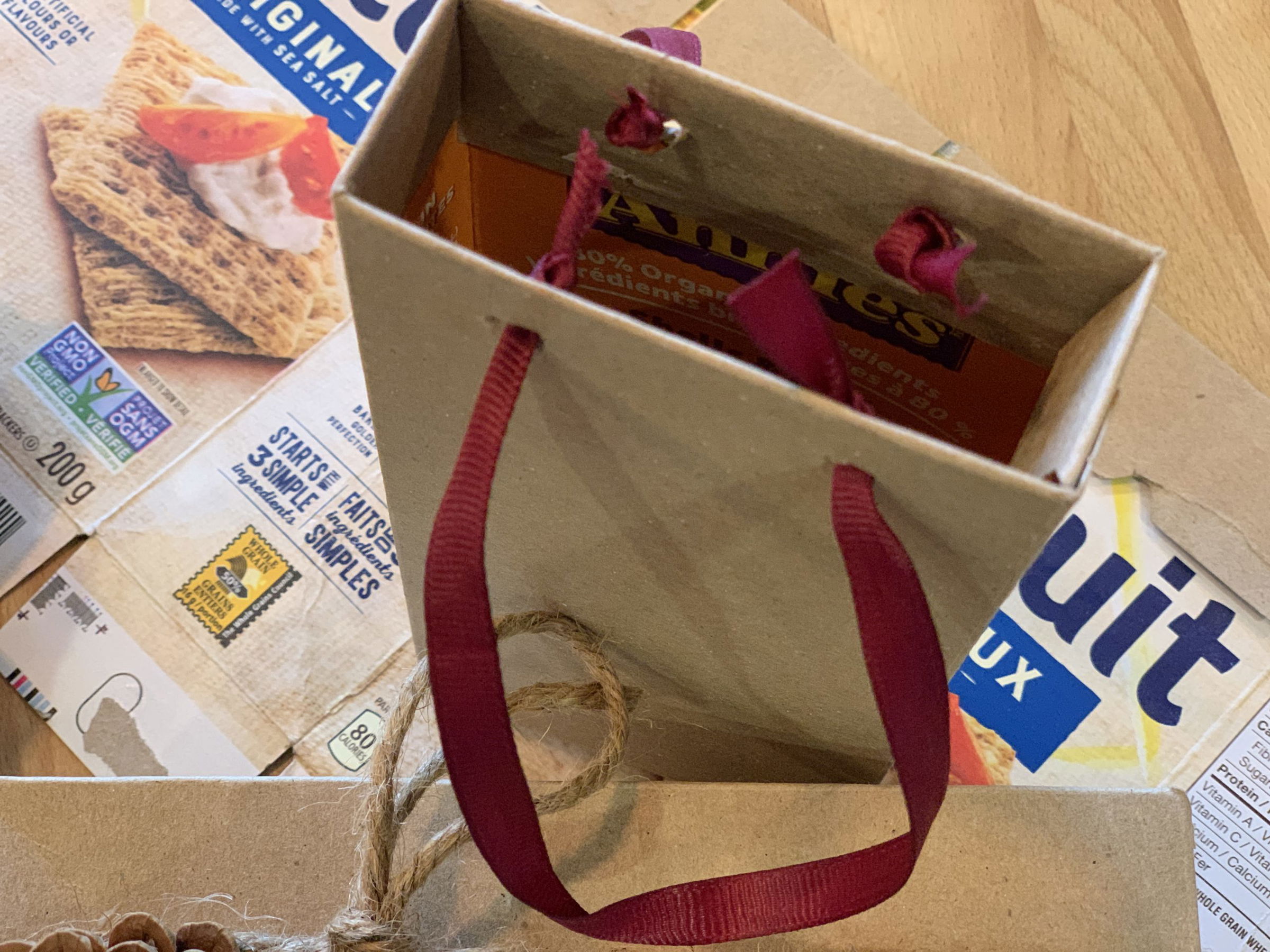 Gift Wrap.  My number one warning: please stay away from ribbon – it's generally made of plastic and will not biodegrade within our lifetime (or any human's lifetime in the next century).  Instead, purchase raffia, cotton ribbon, or twine; using these will also allow you to forgo the plastic tape.  If tape is required, use paper washi tape.  Please also forgo the plastic bow and stay away from plastic gift wrap.  Three great options are:
Make reusable gift bags out of fabric. If you don't have a sewing machine, buy some pinking shears and cut large squares of fabric, tie your gifts in cotton, linen, or any natural fiber that you can use year after year.  We recommend hitting up your local thrift store for over-sized clothing, tablecloths, cool old curtains that can be washed and cut into gift wrap squares.  Google Furoshiki wrapping – it will give you the goods on wrapping gifts in fabric! 
Use old maps, cool magazines, or the colourful pages of the newspaper. Add some twine as ribbon, and a pinecone as a bow and you've got a unique gift that will have the recipient guessing.  Magazine and newspaper pages can be made into beautiful bows!
Upcycle your paper recycling. Transform your cereal boxes or pasta boxes into gift bags! Simply cut them open, turn them inside out, and re-glue them with the natural Kraft paper exposed on the outside.  Get creative by cutting colourful fabric into 6-inch strips to add as 'handles' for the gift bag or simply add twine. Punch four holes in the top of each gift box and tie in the handles.      
The Christmas Tree and Décor.  For those who celebrate Christmas, the biggest question asked when transitioning to a Zero Waste way of life is: do I get a fake tree or live tree?  
According to Greenpeace, research by Ellipsos polling and the American Tree Association, "real trees generate less greenhouse gas emissions per Holiday season than artificial ones.  An artificial tree has to be in circulation for ideally 20 years to reduce its carbon footprint."  So, our advice, hit up your local boy scouts, rent or buy a potted tree, or get a permit to cut one down from under the Hydro lines.  This final option can be a great family outdoor activity, and the cherished family memories can last for decades.  When you're done with your cut tree take it back to the boy scouts for chipping – it will make great garden mulch!
Christmas Crackers can also be made at home.  Pull out those linen dinner napkins you got as a wedding gift, use a few nice scarves, or some repurposed colourful fabric.  Keep your toilet paper tubes, purchase small sustainable gifts and chocolate.  Roll it all up and tie the ends with fabric, ribbon, or twine.  
Other Décor. Do a little pruning in your yard or under the power lines and decorate your table with natural boughs.  Dehydrate orange slices in your oven, cut orange peels into stars with your cookie cutter set, or string popcorn and cranberries for your tree or mantle.  You can make flour dough ornaments, bake them, and paint them.  Origami ornaments, the list goes on. Just be sure to stay away from tinsel and plastic décor.  There is a treasure trove of ideas for easy eco-friendly décor that will keep you and your family content over the holidays.   Crafting with loved ones can help with mental health, so put that smart phone away and get into an all-natural and zero waste Christmas!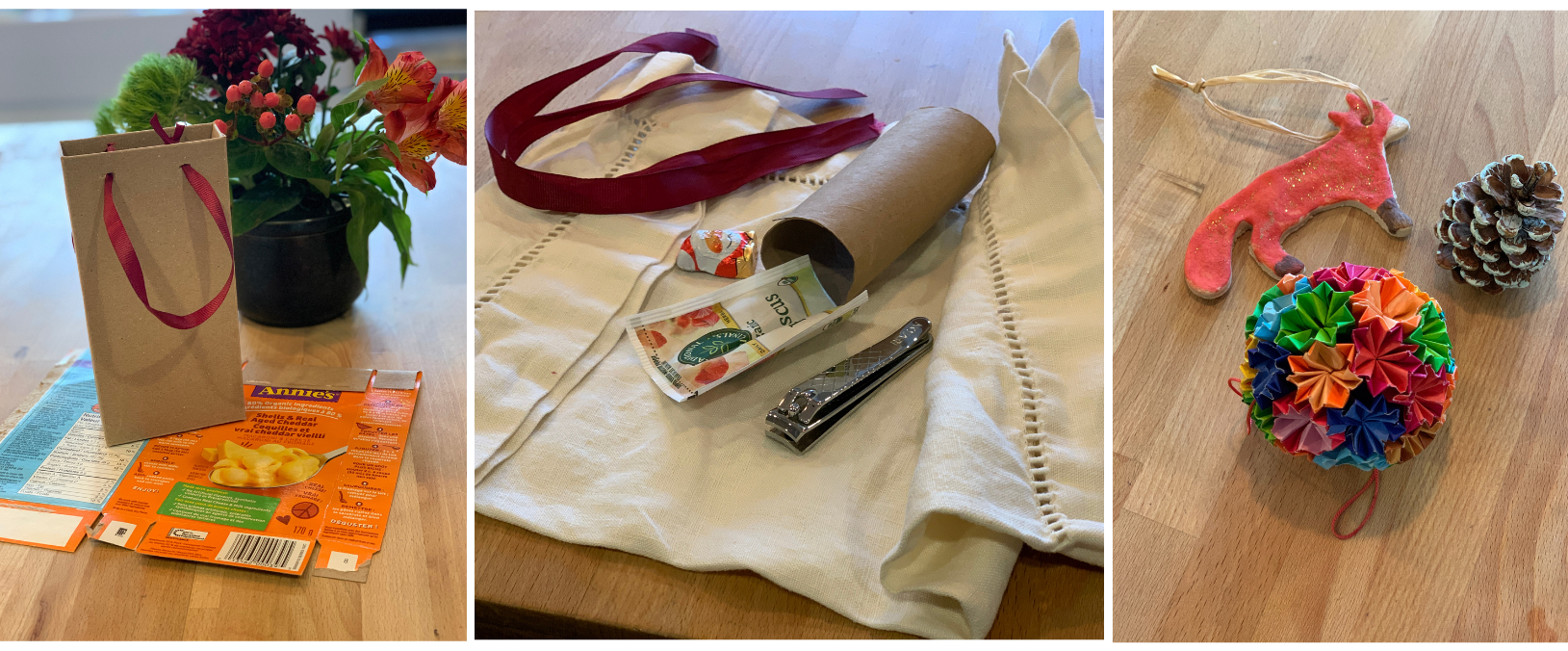 Wishing you and yours the very best of the holidays.
Written by: Grace MacLeod, Gaia & Company Healthy Home Products
Website: Gaia & Company