With Summer just around the corner, it feels so good to get out onto Squamish's beautiful hiking trails. Whether you've been out pounding the dirt for a while now or you're just about to break out your hiking boots, Squamish has endless opportunities to walk the trails. Through the rainforests and up a mountain, past lakes and streams, beside waterfalls and epic views, the Squamish trail system is truly remarkable.
One of the best ways to enjoy the trails is a loop – after all, what goes around comes around! Exploring a new trail back to where you started (instead of doubling back) gives you the chance to enjoy that much more. Here are some of our most loved local loops: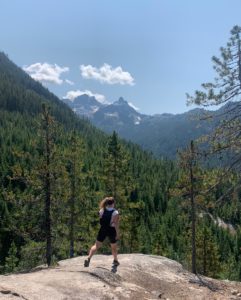 Brohm Lake Loop
This interpretive forest circles around Brohm Lake with a network of over 10kms worth of trails. The shortest route (3.5kms) circumnavigates the lake itself, where you'll walk through a landscape of rocks and outcroppings while spying glimpses of this small, serene lake. You can venture off the main loop onto the Highline Trail, which will take you up to the Tantalus Lookout. This is the perfect spot for a snack and photo op as you enjoy the panoramic views of the Squamish Valley.
Four Lakes Loop
Just like its name describes, this trail system guides you through the forest to visit four different lakes: Alice, Edith, Stump and Fawn. Located in Alice Lake Provincial Park, the Four Lakes Loop has roughly 6.5kms of trails that meander through the forest, along creeks and passing each lake along the way. Keep your eyes up for a peek of Mt Garibaldi, and once you complete the loop, stick around the park for a refreshing dip or picnic.
Smoke Bluffs Loop Trail
This spot is popular with rock climbers and part of the wonder of walking this route is stopping to watch them inch their way up the granite climbing routes. Located close to Downtown Squamish, you can park at the base and then wander up along the trail and above the bluffs to take in the spectacular views. You'll enjoy the lightly wooded areas and watching the rock climbers doing their thing, plus the variety of terrain keeps things interesting. The Smoke Bluffs Loop Trail is around 2.5kms and perfect for most ages and abilities.

The Sea to Sky Gondola is an amazing spot to hike and they have an awesome selection of hiking loops!
Wonderland Lake Loop
If you're feeling up for more of a challenge, hike the Sea to Summit Trail to the top of the Sea to Sky Gondola. Alternately, you can always ride the Gondola to get more of a head start. Once at the top, hop onto the Wonderland Lake Loop trail, which brings you past granite rock bluffs and open meadows, truly immersing you in the pure nature of alpine hiking. There are several viewpoints to enjoy, and when you approach the lake, you'll find a boardwalk that allows you to enjoy the flora and fauna up close. Once you find yourself back at the summit, you can enjoy some food and drink before downloading on the gondola.
Al's Habrich
This moderate-advanced half day hike is an out and back trail experience that rewards hikers with stunning views of the Howe Sound, old growth forest, and beautiful granite slabs along the way. Please note there is a creek crossing at certain times of the year.
Shannon Basin Loop
The longest loop experience we offer is a great option for trail runners! This loop consists mainly of roads which are nice for people to chat side to side instead of one behind another.
Sparky's Skin
A perfect trail for intermediate hikers to enjoy a moderate downhill finishing with an uphill climb to return to the Summit Lodge. If you're looking to experience a mature forest during your visit, this is the best trail for you!
Wonderland to Shannon Basin Loop
Explore this hidden gem loop that takes you through the forest into some narrow sections with peek-a-boo views and a gorgeous waterfall during times of rain. Take the access road back for a steady, moderate climb back to the Summit Lodge passing by beautiful large rock features.
Wonderland to View Spur
A perfect loop for the intermediate hiker who is looking for a variety of features throughout the sections of the trail including a boardwalk that goes around the lake.
Highline to Wonderland
Highline Trail begins on the access road and after a short climb you emerge from the forest onto a ridge showcasing views of the Squamish Valley, Sky Pilot, and The Co-Pilot. From there, expect some steep scrambles and connect back to Shannon Basin Loop and return to the Summit Lodge along the Wonderland Lake Loop.
With enchanting trails at every turn, these are just a few of our favourite Squamish Loops.
So go on, take a hike! You'll fall in love with Squamish on foot.