Are you a mom that feels like you're stuck in fight or flight mode?
Do you feel that your emotional baggage is impacting your children?
Are you just trying to get through the day?
Shannon Kerr, Advanced EFT practitioner, knows what it's like to feel stuck in the hamster wheel of motherhood. After realizing that her mental health was affecting her parenting but unsure of where to turn, Shannon was introduced to the practice of tapping and quickly knew that she found long-term relief.
It's time to get comfortable with your uncomfortable feelings.
It's time to love yourself, body and soul.
It's time to tap in.
Meet Shannon Kerr.

Shannon is a mom of a blended family, founder of the Mother Yourself movement, and a dedicated EFT practitioner that is determined to help you tune into your emotions.
When the pandemic hit in 2020, Shannon had been 6 months sober and was in the position of not only looking after her mental health, but having to cope with the new reality of worldwide uncertainty and how she was going to hide her anxiety from her daughter now that they were together all hours of the day. She became aware of her avoidance of feelings and realized something needed to be done.
After reaching out to close friends, Shannon was welcomed into the world of tapping.
"It instantly reduced my anxiety and I was able to connect more easily with my daughter. (She) was able to express herself more easily, and it just created positive changes all around our household."
What is EFT Tapping – and why?
Emotional Freedom Technique (EFT) tapping is a body-centered form of therapy that allows you to change the connection between mind, body and heart by building new neural pathways in your brain. In short, tapping helps you to control what happens when triggered. 
Shannon's biggest reason for introducing selfcare tools, such as EFT tapping, to mothers: the children. Anxiety is on the rise in schools and teachers simply just don't have the tools or time to work individually with each student during school hours.
Teaching a mom how to love all parts of herself is the most important work that she does; because when a mom feels good within herself, she can be a better parent – and person.
What services are offered?
The purpose of Shannon's techniques isn't to keep you coming back for more. In contrary, her goal is to teach you why and how to tap into yourself on your own, and to eventually teach your children as well.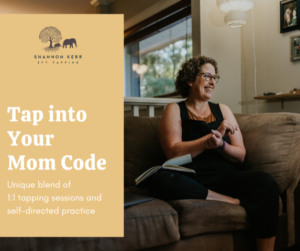 The Mom Code is a unique 3-month program catered to mothers that will help you rewire your mind to begin creating the life and relationships that you want.
With a self-paced method, the Mom Code allows you to set your own pace for learning. Between your monthly meeting with Shannon to tap into what's blocking you, you'll receive weekly support through emails, simple exercises and prompts to keep you focused on your goals.
By the end of the 3 months, Shannon truly believes that you will have a deeper understanding of who you are, what you're ready to accomplish, and how to successfully become intentional and reconnected in your motherhood journey.
If you're looking to connect with Shannon or learn more about EFT practices, reach out to her here or at shannon@shannonkerr.ca!
–
Looking to be featured? Contact us today!